For our Muse series we'll be taking time to catch up with people who inspire us daily through their artwork, music, entrepreneurship, activism, design, etc. They are the movers and shakers of our time and are setting the bar high with their unique voice and vision.


Produced in small batches here in Brooklyn, NY, Even Keel infuses Eastern Roots with Western Herbs to handcraft a vegan bath & body line with a principal focus on our earth's natural clays, oils and botanicals. We've stocked Even Keel's candles and soaps since we first opened our Fort Greene shop, and have loved seeing you all interact with their products!
For this series, we had a chat with founder En Tsao to learn a little more about how she got started, what influences her, and how she stays true to her values.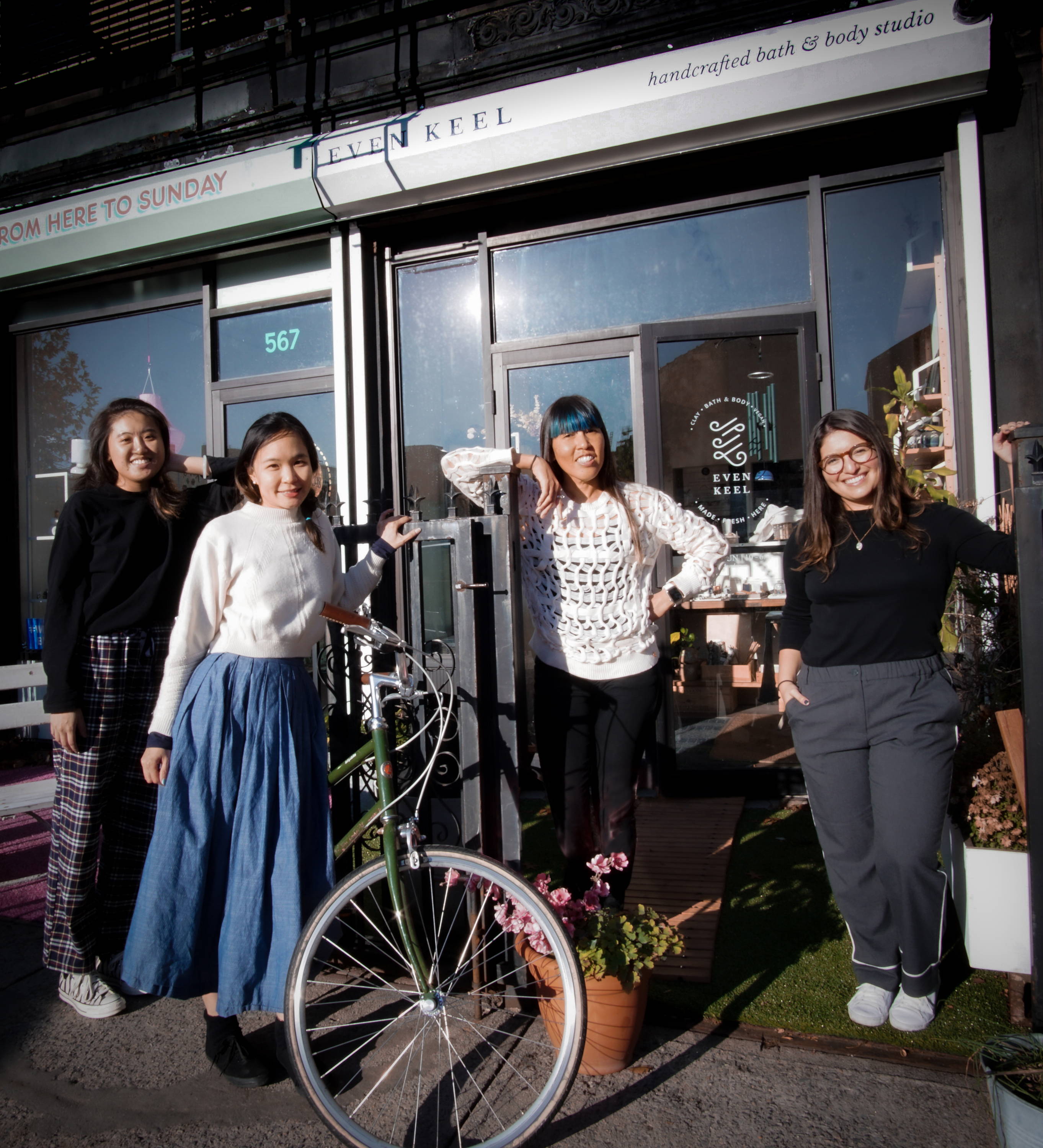 The Even Keel team from left to right: Yin, En, Connie, and Hayley.


How did you transition from working in art & design to creating natural skincare?
I started making soap as a hobby when I was in college, but I no longer had the time once I graduated and started working in an advertising/design agency. Like so many, the late nights and long hours behind the screen led me to a very unhealthy relationship with stress. After several years, I took this as a sign to transition into book publishing — the slower pace allowed me to re-work my hobby back into my life. I was in my late 20's by then, and became more concern with my health — I started incorporating what I learned into my soap recipes, which slowly led me down the path of just making recipes for everything I would generally buy to treat myself — candles, diffusers, bath salts, etc… except I get to dictate and KNOW that everything is 100% natural and from sources I would feel comfortable personally using. While this was all happening, my visa was slowly coming to an end and I was really lucky to have an amazing boss in my publishing years — he, among a few other generous and supportive people in my life, helped with the extension of my artist visa, which has brought me to this point with Even Keel.


How has your Singaporean heritage influenced your work?
Initially, Even Keel was inspired by my mom's herbal concoctions when I was a child and my initial recipes I created had many eastern herbs in it, it was a lot easier when I was frequently visiting Asia in the beginning years. However, I quickly realized a lot of the similar herbs I was sourcing locally came packaged dried and many from unknown sources in China, so I slowly turned my attention to what's readily available to me here — things I can find wildcrafting while hiking, herbs I can source from reliable places where I know their growing practices are ethical and organic. Hence, Even Keel was inspired by my "eastern roots" and re-worked using "western herbs".


All of your products are completely natural – meaning no animal products, no artificial coloring, no artificial fragrances, no fillers, no mineral oils, no synthetic preservatives, and no parabens/phalates (read more here!). How are you able to stick to all of these parameters, and why do you think it is not more common for products to be created this way?
It's actually a lot easier than people think! I find that starting from the base idea and sticking to simplicity helps me. When people are concern more on their profit margins (which of course is important to pay yourself, but let's not be greedy =P), they start to add in "filler" ingredients like "Yellow 102" instead of investing in higher costs/time in infusing Annatto seeds, use synthetic fragrances which are a fraction of the price of essential oils, or start to concern themselves with having their product put on a show i.e adding chemicals like SLS to seem more bubbly instead of using an oil like coconut that emulsifies to create big bubbles, they sacrifice on credibility as well quality… I understand that it's tough in this saturated market to keep prices fair but if it's an ingredient I would feel guilty using on myself, I know it's the right decision to stay away from it.


How have you been practicing self care throughout the pandemic?
I've re-discovered how wonderfully therapeutic it is to take baths! It's no longer the occasional "self-care Sunday" for me — I take it whenever I'm feeling stressed out from a long studio day, after a walk, basically whenever I can. I'm one of those people who have ice blocks as hands and feet, so they really help with my circulation. Like everyone else, I'm cooking a lot more. Also, I've recently picked up evening jogs to clear my mind (and partially to combat all that extra cooking).


Which of your products holds a soft spot for you?
I have soft spots for every one of them! Each of them has a little back-story on why they were created… but most recently, it's been the bath salts (because of the above previous question), the dried calendula and rose petals seemingly "re-blooming" again around me does it every time.
View more of En's work at evenkeelsoap.com, and check out their comprehensive list of ingredients here!
Leave a comment
Comments will be approved before showing up.